"Winter is the best agent ever! Her marketing generated 13 offers within hours of listing our home! Final result: We got MORE than what we were asking for and it was a VERY PROFITABLE sale!"
Karla C., Home Seller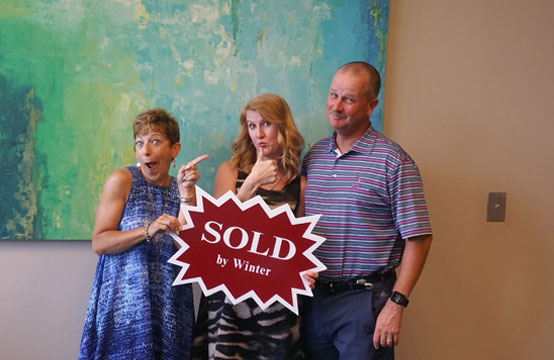 "If you would like a realtor that works 24/7 for you, knows the market (does so much research), advertises your home beyond your expectations and sells your house quickly, Winter Baserva is the realtor for you! The bottom line is… Winter gets the job done, does so quickly and is a pleasure to work with. We love working with her (we have done both sides with her buying and selling). Winter is just beyond awesome! We wouldn't go with anybody else!"
Renee & Steve D., Home Seller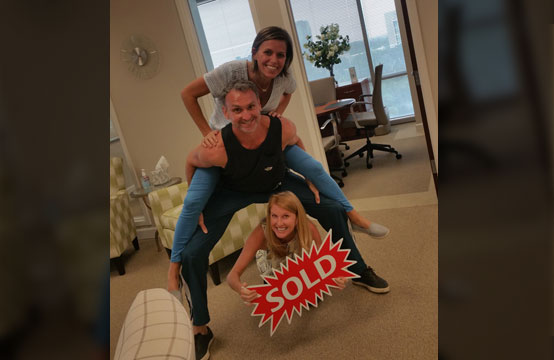 "Winter was a HUGE help with everything…and I mean EVERYTHING! She is EXTREMELY knowledgeable and honestly took stress off my mind. If I ever had a question on the property, the loan, or anything else for that matter, Winter was always accessible. Winter even noticed a mistake from the sellers that ultimately had me walking away with a check for over $500 at my closing! She truly is on your team, and I promise you that you'll feel this way as well."
Tanya & Jared L., Sales Marketing Executive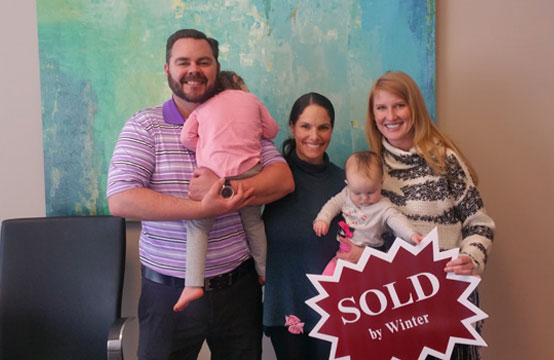 "Winter in one word is a DYNAMO. I am not the easiest buyer to work with. Once we found the property of our liking, she fought tooth and nail to get us the best purchase price possible. She continued to look out for us on every step of the closing process as well. It is rare to find someone that you can have full faith in, the make sure your first priority needs are met. I will use, recommend and refer Winter for all property buying and selling situations. Winter is a realtor that takes care of you as a client, but becomes part of your family. I hope I stay in my new house for many years to come, but I know who to turn to if it comes time to sell."
The Schafer Family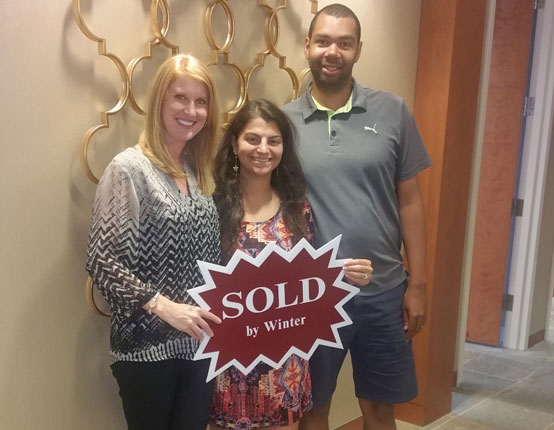 "Winter is absolutely amazing and the best real estate agent ever!! She helped us sell our first condo a couple years ago (for a profit at a time when everyone was still under water) and now she helped us buy our first home that we LOVE and got an amazing deal on! I can honestly say that I trust her 110% with everything real estate. I've referred her to several of my other friends/colleagues who have used her and they always come back raving about how terrific she is! She has true talent and fights for you! Seriously, Winter takes care of you like she's buying the house herself and she's so supportive and caring throughout it all! Even when all we had was our tiny condo, worth only $130K, she treated us like million dollar clients and that's why she will forever be our real estate agent and friend in life!"
Leila K., Physician, Emory
"Winter SOLD MY HOME BEFORE IT WENT TO THE MARKET! I had no idea I had stumbled upon such a superstar (literally)! She approached me about a buyer she had for y home and it was TRUE. I got the price I wanted and it was effortless!"
Rose M., Upper Level Executive for PNC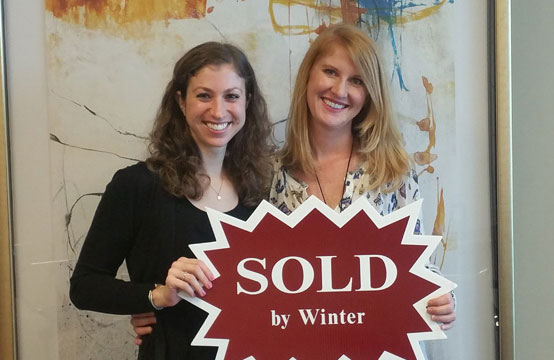 "Winter helped me buy my first home just over a year ago. I had to relocate unexpectedly & there is no one I would have rather had as my selling agent. My home was only on the market for 5 days & the offer came in at asking price, well above what I had paid only a year earlier. Not to mention, many of the other units in my building that were listed before mine are still on the market. I only wish I could have taken her with me to help me buy a home in my new state of residence!"
Dana I., Attorney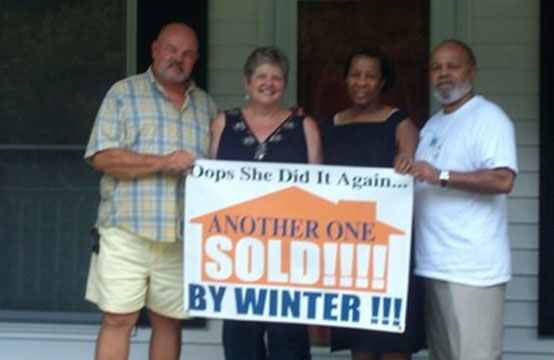 "My story is different than most that you will read. Winter represented the buyers on my home that I was selling. When was the last time you read a testimonial from the people on the "other team?" I had the home listed with another agent, but I found throughout the process Winter was truly the spot on professional I needed to contact to answer my questions and concerns. She was professional, attentive and such a pleasure to work with. She did a much better job than the person I hired to sell my home. So much so, that she is my realtor from this day forward. THANKS FOR SELLING MY HOME WINTER!!!"
M. Barnes, Former State Representative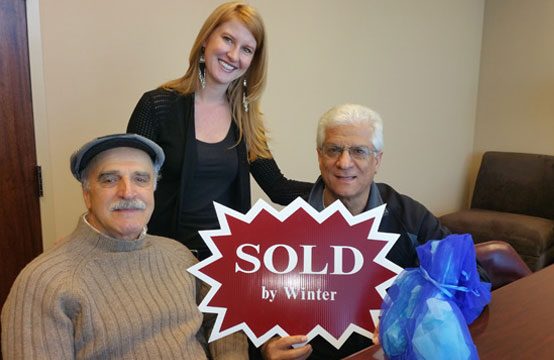 "We've seen BIG returns working with Winter on buying and hold as well as flipping properties for over a decade now. She has become our family in the process! We trust her so much, she does all the buying and selling without our input and we just collect our checks!"
Khalil G. & Hamid Y., Investors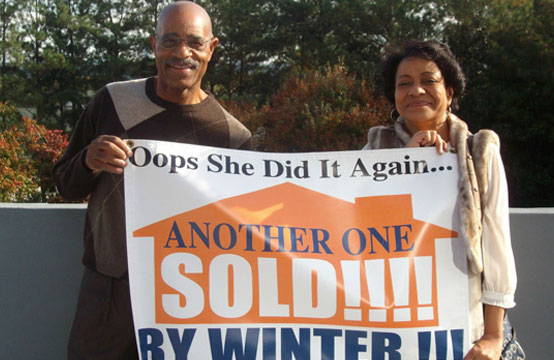 "DON'T WALK, RUN TO WINTER. She is SO busy and can only be with a certain amount of clients at a time and if you are one of the lucky ones she chooses, you will reap the benefits BIG TIME. Best part…we was SHOCKED to find out how much equity we had in our home and it's all due to Winter! We are forever grateful and she is our friend for life!!!"
Barbara & Willie A., Home Buyers
"Winter is a marketing GENIUS! We've Bought & Sold Over $1 Million Dollars In Real Estate & Couldn't Have Done it Without Her! If you're lucky enough to work with her know you are blessed!"
Jen & Rick M., Service Manager Mercedes Benz of Buckhead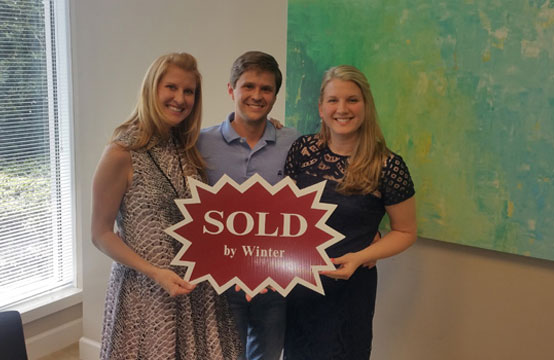 "Winter is an amazing real estate professional & I would highly recommend her to anyone interested in listing or purchasing a home. She is professional, patient, & a great negotiator. We found Winter to be encouraging through both the highs & lows of looking for a house & when we found the perfect home for us, Winter did not hesitate in locking it up on our behalf. Winter makes the process simple, seamless, & enjoyable. We give Winter 10 stars on the 5-star scale!"
Darren & Lindsey D., Financial Advisor & Professor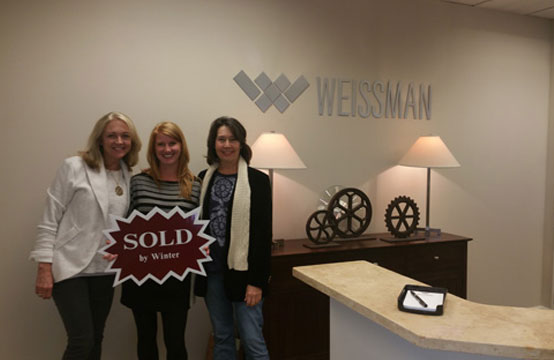 "We were referred to Winter after reaching out to two real estate agents that did not bother to call us back. Winter was extremely responsive, professional, knowledgeable and true to her word. She advised us wisely throughout the sales cycle. We had 3 offers at our asking price the first day on the market!!! The superlatives to describe Winter are endless. She is amazing. I will use her again and recommend her to anyone I know selling or buying a home."
Venus Investment Group, Investors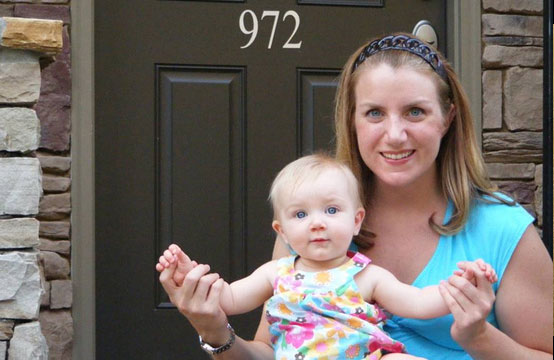 "I can't count how many homes I've bought and sold with Winter. I found her online and found a family in the process. She became my friend during this process and went above and beyond what is expected of a realtor. She even babysat for me after my husband passed away! Winter is a master negotiator. She has the kind of instincts for getting a deal done that can't be taught. And, she even helped me when I got locked out of the new house on moving day! Thanks Winter, for being there for Rory and I–we are so lucky to have found you!"
Abbie B., AWAC Insurance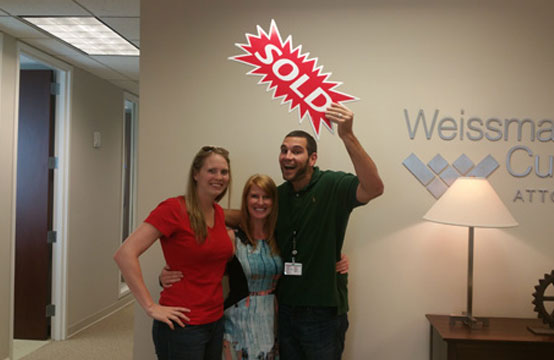 "Winter is amazing! She has helped my husband and I purchase two homes and sell one home. She is very attentive to what YOU want and makes sure you are comfortable through the entire process. She has a great positive attitude and is an absolute shark, making sure her client gets the best deal possible. We have really enjoyed working with Winter and if/when we ever decide to move she'll be the only realtor we call."
Jess & JT L., Nashville Predators
"Our home had previously been listed with another agent for 6 months before we hired Winter and it did not sell. Bottom line, Winter got is sold FAST!!! We not only sold our home, we bought our condo with Winter and we did it all without a double move. We also made a friend for life!!! THANK YOU AND VOTE FOR WINTER!!!"
T. & C. Christensen, Coca-Cola Company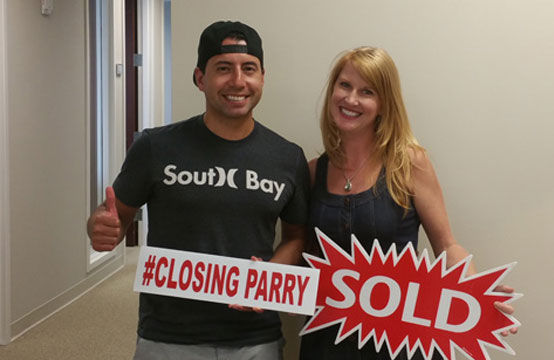 "I give Winter the highest recommendation to anyone considering working with her. She sold my in townhome to an unrepresented cash buyer. She's an excellent negotiator. The sale of my home was a smooth process from beginning to end and not only would I recommend her to friends, clients, co-workers, and family but I would hire her again in a heartbeat! Thank you, Winter!"
Mark V., Financial Advisor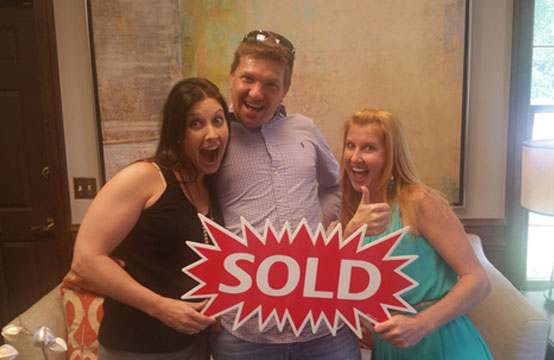 "It wasn't even 24 hours after listing the home that we had multiple offers. She truly cares about her clients and treats them as she would her own family. We had a wonderful experience with her and gained a friend in the process. I would recommend Winter Baserva to anyone who wants results in this competitive market!"
Erin & Rob C., Home Sellers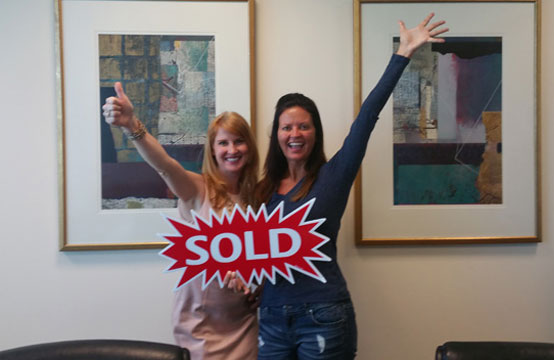 "Winter wants to sell your house in the fastest time possible for the best price you can get. She uses the internet for marketing, and for showings, so it's easy to see how is looking at your property and when they want to see it. Winter is efficient, driven, friendly, and knowledgeable. The BEST in the business! I got exactly what I wanted, thanks to her!"
Cindy B., Health Care Industry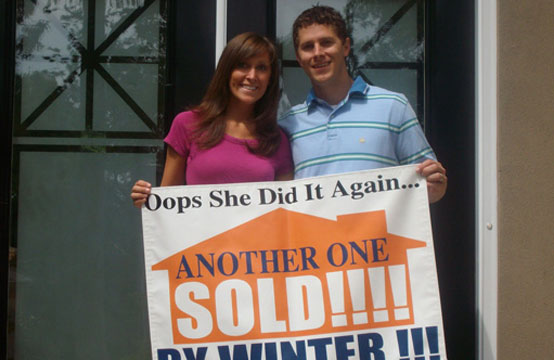 "In less than 6 months, she was able to sell our condo (in the worst possible condo market ever), negotiate our dream home for us, and get our first home buying experience on National television. Yes, we were one of the 2 episodes that she did on HGTV's House Hunters! Thanks for everything Winter!"
Kelly & Brian W., Home Sellers/Buyers and One of Winter's HGTV's House Hunters Couples!
"After our first conversation with her, I knew we had the right agent. We found our home also known as the "one" quickly! What I loved about Winter, was she tried to talk us out of this home several times, but we loved it, so instead, she went back to the bank and was able to negotiate additional money off our already deeply discounted price which was just the cherry topping of it all. We would have moved forward even if she hadn't done that for us. I always say Winter can work her magic and she did! I would highly recommend working with Winter if you need a STELLAR agent. So much so, we've also hired her to sell our other home as well."
Teka & Onaje G.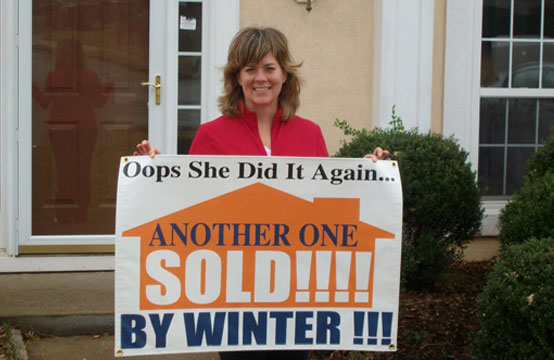 "My husband and I are new to home investing, so we knew that finding a real estate agent whom we could trust to guide us through the decision-making process was crucial. We found that Winter was a perfect choice because not only is she a real estate agent, but she is also an investor too and her advice was obviously based on years of experience!! She gave us the confidence necessary to make a sound and profitable decision on our first investment and we are currently focusing on our next one. She is a good match for us and we are looking forward to a long and profitable relationship with her!!!"
C. & R. Parris, Investors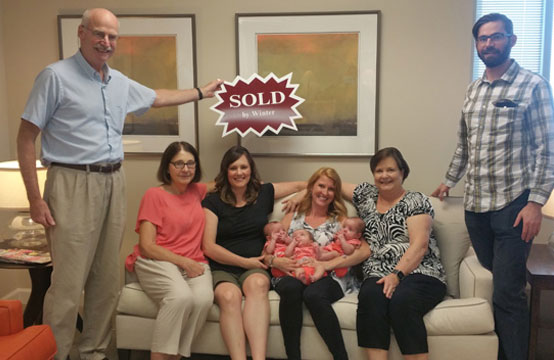 "Winter represented the buyers who purchased my home (yes, I was on the other side of her) and she was such a bulldog when my agent had failed us that when it came time to buy, I wanted HER on my team. She got me a steal of a century and helped us move yet again when we had identical triplets. I have now bought and sold 4 times with her. Winter isn't just a realtor, she's a friend, and she's even helped with feeding the babies during this new time. Winter will always be my real estate partner and friend for life!"
Melissa F., Home Buyer & Seller, Happy REPEAT Client!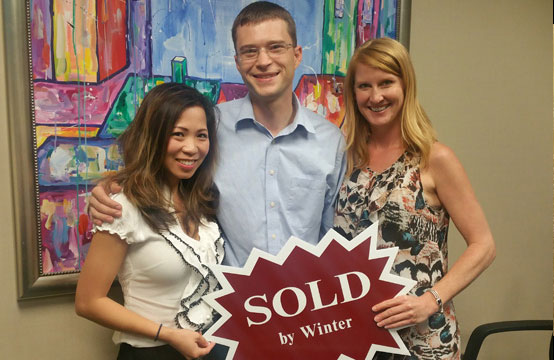 Winter restored our faith in realtors! Tenacious, energetic, and extremely friendly. With our first home (new construction buyer) under contact with Winter, we had a complication with the builder. While complications aren't always the standard, they happen more than you would think. The WAY she wrote the contract was our first protection and couple that with Winter's legal team and negation skills in high gear, the end result was in our favor. If it wasn't in our favor the results would have been catastrophic with the amount of money we had at stake. She fought for us like white on rice, all part of her service, which was surprising, rare, and welcomed! If you're looking for a smart, talented expert with an armada behind her to get the job done that makes the deal for YOU, you've found a diamond in the rough in a very cutthroat, nasty industry. A true 10 star service, rare to find in real estate. If you're reading this and haven't contacted Winter yet, then I've failed at this review.
Chi & Chris M., Engineer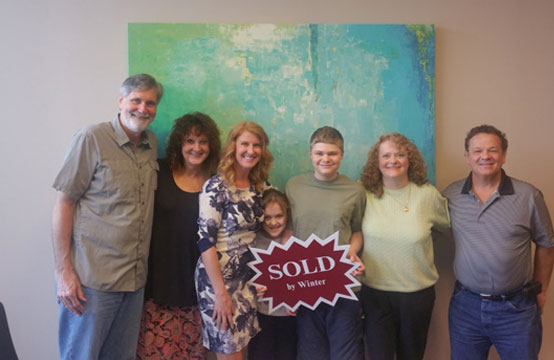 "Winter sold our home when others failed to an unrepresented cash buyer. She negotiated us to stay in the home after closing and we found our dream home without having to move multiple times. She is an absolute rockstar and complete savior. We consider her to be family!
Larry & Susan T., Entreprenuers
"Winter sold my hard home in 11 days! I had 4 offers in a down market! She is an absolute POWER HOUSE!"
Robert F., VP Data Enterprise Architecture, Equifax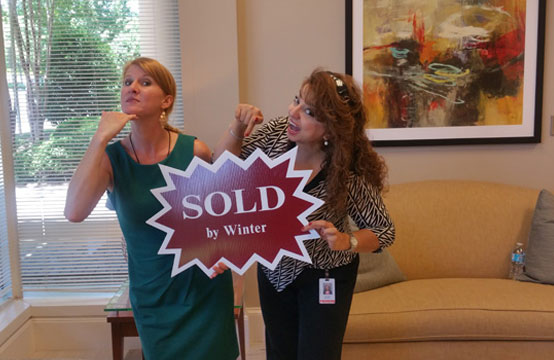 "Winter is the best realtor anyone could dream of!! She is friendly, so caring, very organized, very knowledgeable, and extremely sharp!! She is an expert in negotiations, she has a good attention to detail and in a nutshell a definition of a professional realtor! I am extremely pleased with her service. Winter did a great job on helping me buy a house! I highly recommend her as the only realtor you should ever consider!"
Mojgan Z., Insurance Adjuster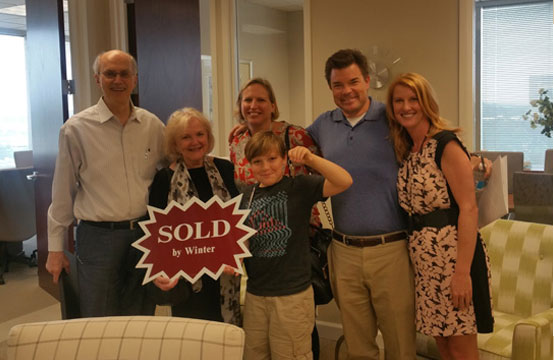 "We have purchased 2 homes with Winter and we're not even sure how to begin to THANK YOU for your time, expertise and kindness over the years. One of the purchases you handled for us 100% while we were out of town and hadn't even seen the home. That is the level of trust we have in you! We are thrilled to have found an expert real estate professional who we also call our friend. I'm excited to get my other home ready for you to SELL!"
The Ramsey Family, Happy Repeat Clients!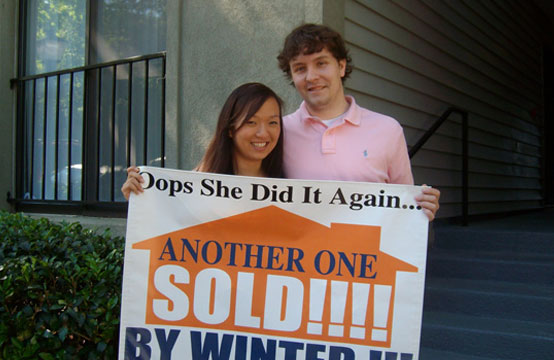 "You can pretty much call us Winter's walking billboards. We have referred her SO MANY clients over the years because she has always rocked our world. We've purchased 2 homes and sold 1 all with Winter and she is not only the BEST IN THE BUSINESS, but we consider her to be family!"
The Poovey's
"We LOVE Winter, not because she chose us to be on HGTV'S House Hunters, but because she always makes the process so easy. We've now sold 1 home and purchased 2 with Winter and did it all without having to move multiple times. There is nobody better in the business to exceed your expectations, get you a good deal and sell your home for top dollar!
Sherry & Tyler G., The Braves Home Sellers/Buyers and One of Winter's HGTV's House Hunters Couples!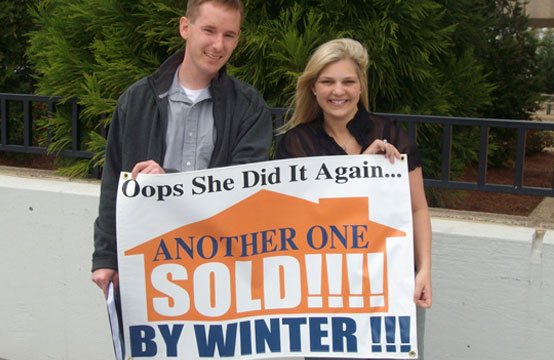 "Winter is an absolute MUST-HAVE when even thinking about purchasing the property. No matter how many clients she has, she makes you feel like you are the only one. She knows EXACTLY what questions to ask to facilitate the process and makes everything seamless. We will NEVER purchase or sell another property without her! Winter–You really have been great. We honestly feel that without you, we would not have been able to get the home of our dreams at the price of our WILDEST DREAMS. You are so great at what you do and it's obvious that you love your career!!! Thanks so much for everything!"
J & E Bright, Delta Pilot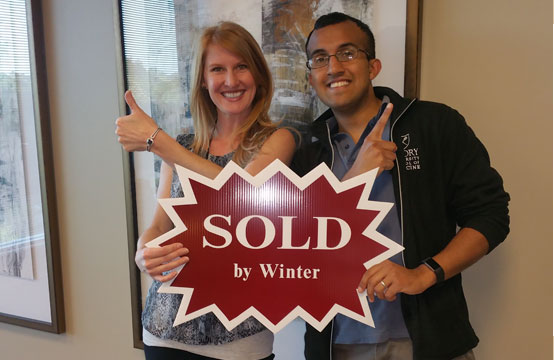 "Winter sold my home BEFORE THE HOME WAS LISTED. We got an ABOVE ASK price and were allowed to stay in the home 30 days following closing. We made a KILLER PROFIT with Winter on our side. She was referred to us and I'm so grateful for the connection. Want top dollar? Call Winter!
George K., Physician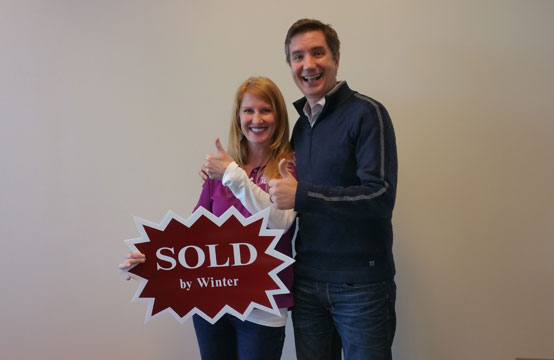 "Multiple offers above ask within days of listing and a fully executed back up offer. Hiring Winter helped my bank account and peace of mind. The best in the business!
K.T, Home Seller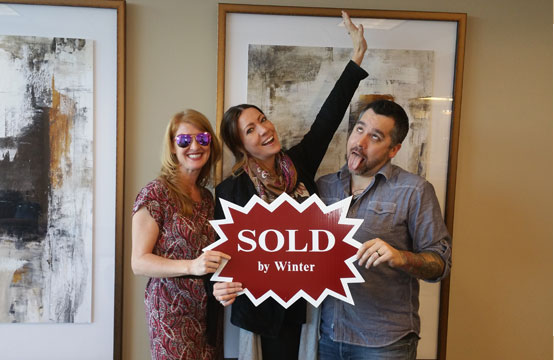 "Winter got our offer seen above the rest in a multiple offer situation. She's intelligent, strong, and knows the industry like the back of her hand. She helped us through a tedious process during a time of year that's not very ideal for purchasing a home. She was patient, informative, and helped reduce the stress. Love us some Winter!"
Elisa & Joseph S., Entrepreneur
"We Not Only Got 1 Offer, We Got a Second, Both at List Price! And, we just close on a home a week ago. Winter Baserva is the BEST Agent Ever!"
Sarah W., Business Owner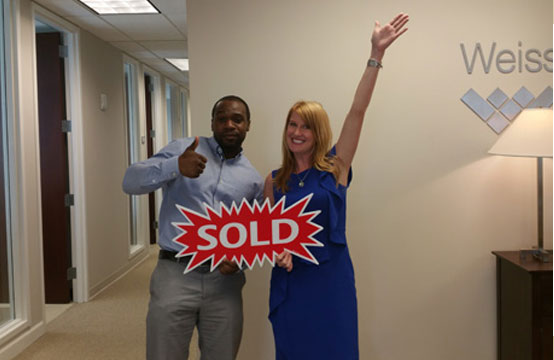 "Patient. Kind. Smart. Tough Negotiator! Got us a KILLER DEAL and she's the ULTIMATE agent to have on your side!"
Wole S., Home Buyer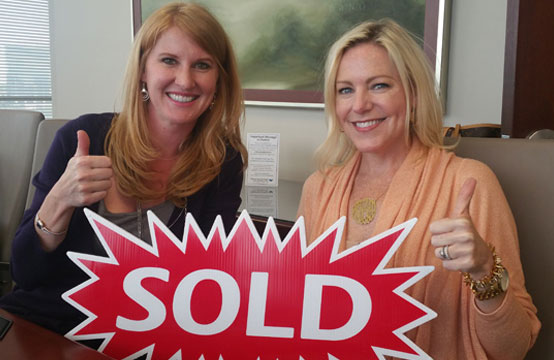 "Hired Winter to sell my home when I wasn't local, she got us multiple offers within days and the only thing I did was show up and collect my check!"
Kelly B., Home Seller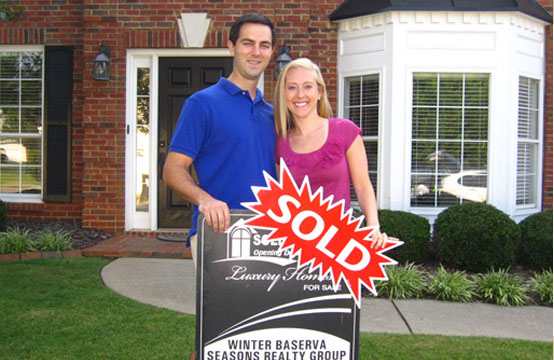 "Winter found an off market property for us that we closed on before it went to the market. We have our dream home and Winter as a friend for life!"
Paul & Shaye M., Home Buyers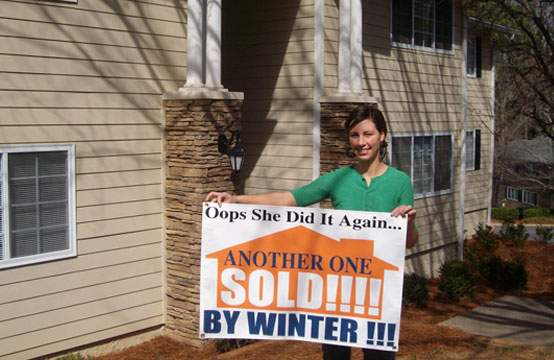 "Winter made finding the right home as easy and painless as possible. I can tell she is busy and has tons of clients, yet I always felt like I was her #1 priority and that she would do anything to get me into the right home for me. Winter is willing to FIGHT for your price and help you get the best deal possible. With Winter as your realtor, you will know that you are in good hands and getting the best service out there. She is professional, efficient, attentive, friendly, and GREAT AT WHAT SHE DOES! I would recommend Winter to anyone!"
J. Flynn, Actor & Writer
"The home I'm in is my dream home and it had in total 39 offers on it! Winter made our offer stand out above all others and low and behold the house is mine!"
Wayne N., Sales Executive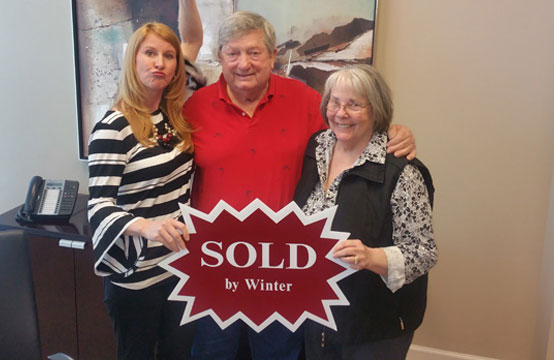 "Winter sold our 7-figure home in 8 months when it was previously listed for 5 years with other agents who couldn't sell our home!"
The Franks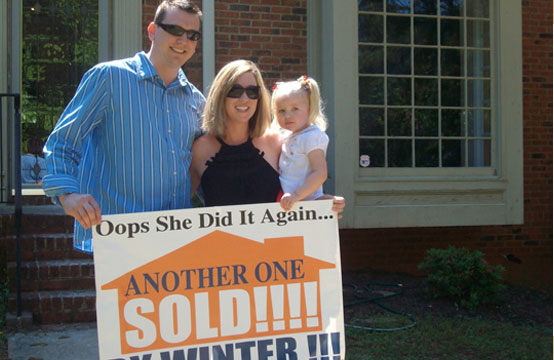 "Winter was friendly, helpful and most of all she listened to our needs, wants and concerns!!! How many times have we had experiences with realtor's that are pushy, take forever to get back to you and basically seem to care more about getting you to buy than finding something you LOVE?? We had quite a few experiences like that ourselves—not the case with Winter. She was extremely patient with us! And best of all, we could of NEVER got our deal of a lifetime without her!"
The Cline Family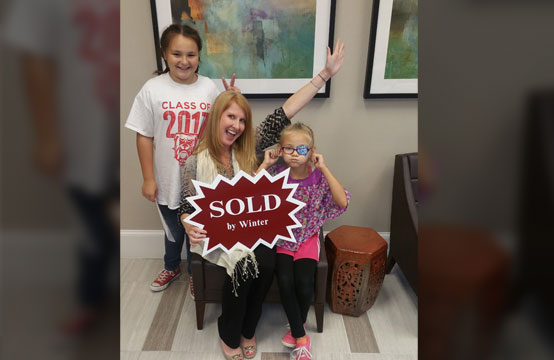 "Aunt Winter is the BEST realtor and the funnest and BEST Aunt too! We LOVE Aunt Winter!"
The Serafin's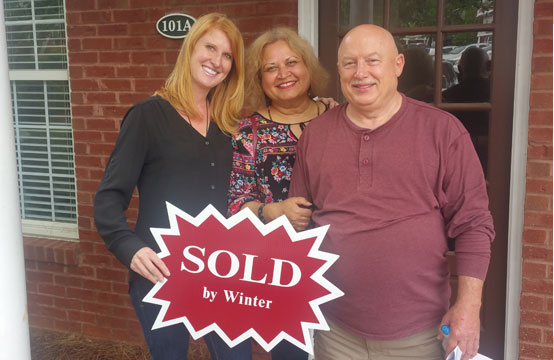 "Our home sold FAST and for a profit with Winter. She was referred to us and we couldn't be happier. We got it done and laughed a lot along the way. Winter is EPIC!"
The Carts, Former Marine
---